<< Launches newly designed website /Updates 2010 Keith: Montrose live - Date addition >>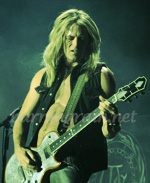 Happy Birthday Doug!!
I had a GREAT day! Coffee in bed, worked on music, cut out early and had some laughs with Ryder,,,,,,, just had some sushi quickly as Ryder allowed me 45mins at the resturant! haha
And now some jammin while mom puts Ryder down..... Then a movie or ???
Could not ask for a better day!
Thank you all for the Birthday wishes. Im not big on celibrating my B day, but you guys make it special and I feel so lucky for that.
All the best!!
Love Doug
.. by Doug Aldrich site | comments (3) + facebook comments
[401] vasco baptista | Web .. Feb.18.2010 06:21 PM
happy birthday mate :D! you rock dough, you and slash are my favorite guitar players. peace man :)!
[396] kristy kittybeast .. Feb.19.2010 06:42 AM
HAPPY BIRTHDAY DOUG!!! May you have a blessed day surrounded by loved ones, family, friends and CAKE!! Best wishes for a wonderful day, Kristy
[397] Julia | Web .. Feb.21.2010 11:41 PM
I wish you to enjoy life every day like the first time.
Please us with your creative work.
I will hope to see you in Byelorussia and in Russia again.
Many times.
Please leave your comment at Burning Rain Message Board.
<< Launches newly designed website /Updates 2010 Keith: Montrose live - Date addition >>
[ Back | Page Top ]