<< Catch up on Doug Aldrich's news Ian Mayo: Stoned Alice show >>
After months of speculation, WHITESNAKE are thrilled to announce their new bass player/singer... 35 year old MICHAEL DEVIN.
Recently MICHAEL has been playing with LYNCH MOB with new WHITESNAKE drummer, BRIIIAN TICHY.
This completes the new WHITESNAKE line-up & MICHAEL will be featured on their new album, alongside guitarists DOUG ALDRICH & REB BEACH & keyboardist TIMOTHY DRURY.
MICHAEL DEVIN says... "It's an honor to be welcomed into the WHITESNAKE family. I'm a big fan. WHITESNAKE is notorious for exciting musicianship, Davids history is rich, and I'm very proud to be here."
The album is currently being recorded for release on the FRONTIERS label in early 2011. The band will be also returning to touring in support of the new album's release.
Interview with Michael at Whitesnake.com
from Doug: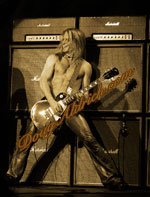 Hi everyone, hope you all are great! Been sooo F'in crazy busy working on the record. Its going great, still in the early stages of recording but it already sounds immense and rich thanks to a certain Mr Brian Tichy laying down a more classic drum performance than I could have imagined. He is just stunning on the record!
But the reason for this post is to welcome Michael Devin to Whitesnake. We are so happy to have gotten him. Wait till you hear him! He's been hiding out with Kenny Wayne and George Lynch among others, but we got him!
Yes, he's a star and is the complete package in a band mate, but his playing is why he was offered the gig. He's the real deal... Him and Brian are a powerhouse together!
We have a bit of time, but the wait for the new WS record will be worth it. I can't wait really.
You guys are so cool, thanks to you all for your support for me and the guys. We really appreciate it.
Best regards, Doug
.. by Doug Aldrich site | comments (0) + facebook comments
Please leave your comment at Burning Rain Message Board.
<< Catch up on Doug Aldrich's news Ian Mayo: Stoned Alice show >>
[ Back | Page Top ]