<< Doug Aldrich's Birthday Ian Mayo Birthday >>
February 7th 2011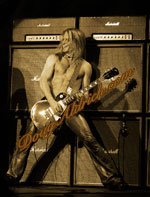 I spent today rediscovering some of the work he did. Nobody ever played with more emotion than Gary Moore. He played with unmatched soul and melody. But he was also by far, THE most ferocious, fearless and intense player i ever heard. No question. His playing made a huge impact on me.
I had the opportunity to see him play several times while on tour. I remember me and Reb listening to him warm up.... It was awesome! Not only was he one of the all time great guitarists right up there with guys like Hendrix and Rhoads, but his voice was righteous and pure. Rest Peacefully Gary.
.. by Doug Aldrich site | comments (0) + facebook comments
Please leave your comment at Burning Rain Message Board.
<< Doug Aldrich's Birthday Ian Mayo Birthday >>
[ Back | Page Top ]