<< Happy New Year 2009! Doug Aldrich Site Updates in 2008 >>
Grab the Burning Rain gydget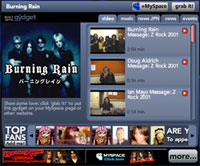 Put the Burning Rain widget to your MySpace profile, Facebook, website, blog, or other pages!

Burning Rain Site Updates in 2008
Aug-12-2008
Mar-31-2008
History/Biography of Burning Rain and each mamber pages have been updated.
Mar-24-2008 (Mon)
.. by BURNING RAIN net | comments (0) + facebook comments
Please leave your comment at Burning Rain Message Board.
<< Happy New Year 2009! Doug Aldrich Site Updates in 2008 >>
[ Back | Page Top ]