<< Keith: Killer NAMM Show Concert on Jan-15 ACM Masterclass '09/Updates 2010 >>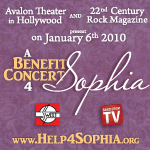 Doug and Keith's friend guitarist Stuart Smith (Sweet, Heaven and Earth) has a baby daughter. Unfortunately, she was born premature and has needed a lot of medical attention, and she needs additional surgery. So Robert Tuozzo has arranged a benefit concert for her on January 6th 2010 at the Avalon Hollywood in Los Angeles, and Doug and keith will be attending/ jamming with other musicians!
Jan-07-2010 (Thu) 3:22pm
Hey, Thanks you guys!
It was a really great night and I think, hope they did well!
Everyone played awesomely and had a lot of fun.
It was good catching up with so many LA musicians that I havent seen for a long long time.
When I walked in, the night had already started, but onstage was Brian Tichy, Jeff Pilson , Tracii Guns and Dinah from ThundherStruck. Man that girl can SING! She pretty much blew me away.
Kelly Hansen came and did some Foriegner tunes and that was killer. Anyway, it went on with various guys sitting in for a song or two. I jammed Rainbow in The Dark with Brian, Rudy Sarzo and Scott Warren along with Tracii Guns. I gotta say, I didnt really know Tracii very well, but he is a fine player and a top shelf dude! Thanks to those guys for the invite.
Anyway, ill fill in more later but I gotta run cause you know whoo is calling me!
Thanks again you guys.
All the best, D
Jan-05-2010 (Tue) 10:12am

Hi everyone, Im a bit late in signing up for this show, but I am happy to be able to say that I will a be attending/ jamming with a bunch of great musicians for a really worthy cause! A friend of mine, guitarist Stuart Smith has a baby daughter that has had a really rough time of it since she was born last year. The medical bills must be out of control, so his good friend Robert Tuozzo decided to take on the job of putting a benefit concert on to help out. There is a whole list of amazing musicians that have signed on! If you can make it, please come down to The Avalon in Hollywood Wed Jan 6. Also, donations and more info can be found on the website. http://www.help4sophia.org/ There are going to be some really cool items for silent auction, so maybe check that out too. Thanks you guys. Hope to see you there. Doug

.. by BURNING RAIN net | comments (0) + facebook comments
Please leave your comment at Burning Rain Message Board.
<< Keith: Killer NAMM Show Concert on Jan-15 ACM Masterclass '09/Updates 2010 >>
[ Back | Page Top ]