Burning Rain Events & Birthday
Write your Whitesnake/ FOREVERMORE review & vote!

Hi everyone.
Some of you know that I'm a Japanese and live in Japan.
and all of you know what happened to Japan about 3 weeks ago.
We, people in Japan, are still affected by the big quake and the tsunami.

We've got so many messages and prayers...
I would like to thank you for it.
It was an unfathomable tragedy, but we have to move on and we are!
Thank you, Harumi the webmaster
.. by BURNING RAIN net | comments (0) + facebook comments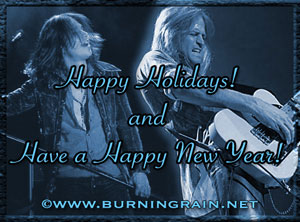 Happy New Year everyone!
May the year of 2011 bring you a lot of happiness and smiles.
Thank you all for your support in 2010 and Hope to see you in 2011!
.. by BURNING RAIN net | comments (0) + facebook comments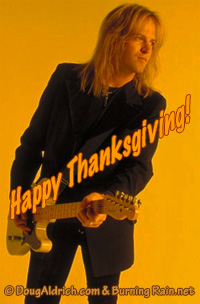 Happy Thanksgiving to you all!
Had a nice day with the family.
Its been a long time since had a day off so It was just football beer and food...
.. by BURNING RAIN net | comments (0) + facebook comments
The world lost Ronnie James Dio May 16, 2010 7:45am
Rest Peacefully Ronnie
"I'm going to miss him so much. We lost a Giant yesterday.... Just broken today.
I was blessed to share some music with him, but mostly, I am thankful his friendship. Ronnie was a good hearted caring man.
He brought so much happiness through his music. Thank you Ronnie for the gifts you shared with us.
Ronnie made Magic and Ronnie was and will always be Golden.
Goodbye Ronnie.
Love you forever,
Doug"
Source: Doug Aldrich.com
Ronnie James Dio

A true pioneer who has influenced an entire genre of amazing music!!
RJD is a major contributor to what Rock Music sounds like!
His voice is on record as one of the true greats of all time!
Having touched several decades and generations of fans, his influence will be felt for as long as people are listening to Hard Rock/Heavy Metal !!
Hail to you R J D and in your honor, Long Live Rock n Roll !!
KSJ
Source: KSJ Facebook
.. by BURNING RAIN net | comments (0) + facebook comments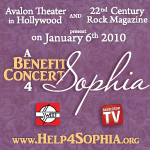 Doug and Keith's friend guitarist Stuart Smith (Sweet, Heaven and Earth) has a baby daughter. Unfortunately, she was born premature and has needed a lot of medical attention, and she needs additional surgery. So Robert Tuozzo has arranged a benefit concert for her on January 6th 2010 at the Avalon Hollywood in Los Angeles, and Doug and keith will be attending/ jamming with other musicians!
Jan-07-2010 (Thu) 3:22pm
Hey, Thanks you guys!
It was a really great night and I think, hope they did well!
Everyone played awesomely and had a lot of fun.
It was good catching up with so many LA musicians that I havent seen for a long long time.
When I walked in, the night had already started, but onstage was Brian Tichy, Jeff Pilson , Tracii Guns and Dinah from ThundherStruck. Man that girl can SING! She pretty much blew me away.
Kelly Hansen came and did some Foriegner tunes and that was killer. Anyway, it went on with various guys sitting in for a song or two. I jammed Rainbow in The Dark with Brian, Rudy Sarzo and Scott Warren along with Tracii Guns. I gotta say, I didnt really know Tracii very well, but he is a fine player and a top shelf dude! Thanks to those guys for the invite.
Anyway, ill fill in more later but I gotta run cause you know whoo is calling me!
Thanks again you guys.
All the best, D
.. by BURNING RAIN net | comments (0) + facebook comments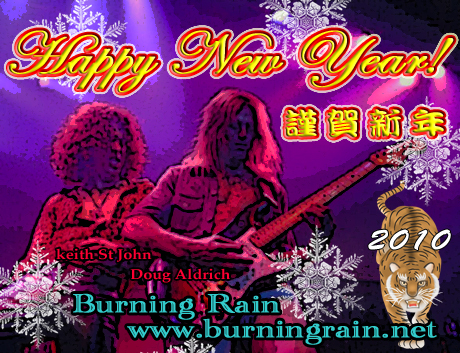 Happy New Year!
Thank you for your support.
Much peace, love and joy to you in 2010.
Merry Christmas to everyone at BR.net!!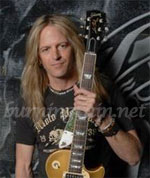 From my family to yours,
I wish you all a Happy and Healthy New Year in 2010!
Thank you so much for all your support.
I am extremely lucky to have you all in my life.
All the best Doug

.. by BURNING RAIN net | comments (1) + facebook comments