June 2010 - WHITESNAKE have officially announced that bassist URIAH DUFFY & drummer CHRIS FRAZIER are going their separate ways from the band after a fun filled & successful journey together.
WHITESNAKE wish URIAH & CHRIS every success in pursuing their individual musical careers & express their sincere gratitude for the exceptional contribution they both made to the legacy of the band.
WHITESNAKE are proud to welcome drummer/vocalist extraordinaire, BRIIAN TICHY... ( www.briantichy.com )
WHITESNAKE are currently in the studio writing & recording the follow up to their award winning 'GOOD TO BE BAD' album, which is expected to be released throughout the world on the FRONTIERS label in Spring 2011 to coincide with their return to touring.
At this time WHITESNAKE are still exploring their options for the position of new Bass Player/Singer...
from Doug: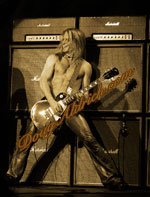 We had great times with Uriah and Chris. They are friends and amazingly talented players. I remain a huge fan of both of them.
Big news!
We are very excited about the addition of Briian T! He is a Badass for sure no doubt!
BT to the bone!!
Best regards everyone,
Doug
Links: Doug Aldrich.com, Whitesnake.com
.. by Doug Aldrich site | comments (0) + facebook comments
Doug is confirmed for the Guitar Festival in Bologna Italy
from Doug
"I've been invited to play at The Ultimate World Guitar Exhibition on May 15th in Bologna Italy.
It looks to a be a lot of fun and a great chance to jam with some amazing musicians! Including Yngwie Malmsteen, George Lynch and the most funky man in music, Glenn Hughes!!
Its definitely going to be a whirlwind trip no doubt. I'll just be gone for the weekend 2 days in Italy and then straight back to work on the new WS tunes. I bet I won't even be there long enough to even get jet lag. No idea who I'm jamming with, or what we are gonna play....
It's all good though. It's really an honor to be invited to play with such great players. Check out the link for the full lineup.
Speaking of new WS songs, David and I are extremely happy with the new ones going!
Even though its still at the demo stage, he sounds absolutely killer! I'm so freaking excited to get these tunes out there even if we have a ways to go before they are released.
Take it easy and all the best
Doug
Source: Doug Aldrich.com
.. by Doug Aldrich site | comments (0) + facebook comments
Doug will be appearing at the Musikmesse in Frankfurt Germany next week. He will be doing a signing and performance at Marshall.
Doug "Its my second time there and it is always great to see the Marshall Family."
Doug Aldrich appears
Thu Mar-25 2:30pm-3:00pm

: Guitar Clinic

Thu Mar-25 3:15pm-4:00pm

: Signing on the main stand

Fri Mar-26 2:30pm-3:00pm

: Guitar Clinic

Sat Mar-27 2:30pm-3:00pm

: Guitar Clinic
Related Links
.. by Doug Aldrich site | comments (2) + facebook comments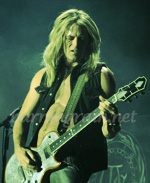 Happy Birthday Doug!!
I had a GREAT day! Coffee in bed, worked on music, cut out early and had some laughs with Ryder,,,,,,, just had some sushi quickly as Ryder allowed me 45mins at the resturant! haha
And now some jammin while mom puts Ryder down..... Then a movie or ???
Could not ask for a better day!
Thank you all for the Birthday wishes. Im not big on celibrating my B day, but you guys make it special and I feel so lucky for that.
All the best!!
Love Doug
.. by Doug Aldrich site | comments (3) + facebook comments
Doug have confirmed his attendance at this year's NAMM event held at the Anaheim Convention Center January 14-17 in Anaheim CA USA. He will be at the Marshall booth on Friday, January 15th.
Doug Aldrich at the Marshall booth
Signing: 12:15
Performance: 14:30
.. by Doug Aldrich site | comments (0) + facebook comments
Sep-13-2009 (Sun) 12:29pm

Hey everyone,
I have been meaning to let you know sooner, so sorry for the delayed news.
On Aug. 29 my wife gave birth to a BABY BOY!!!
His name is Ryder James.
He came in at 7.3lbs (3.3kg), 20 inches (50cm).
.. by Doug Aldrich site | comments (8) + facebook comments