Hey Everyone. There are some things that I would like to promote including a great organization called Music Heals. Its a Charity to help sick children and I really am thankful that they are there.... But first, I wanted to ask, when you have a chance, to please visit the Y&T website (See Link) and view the Phil Kennemore Benefit Concert Items up for auction. Really great things to bid on. All the proceeds will go to help Phil who is battling Cancer. Phil is one of the all time great guys in music and Ive been a fan of Y&T since I first heard them in 1981. In 2003, Whitesnake , Y&T and Gary Moore worked together for the UK Monsters Of Rock Tour and we've been friends since. You couldnt ask to know a cooler bunch of guys. Y&T live is just badass!
For the Benefit auction, I wanted to donate one of my most favorite guitars. Its a Fender Custom Shop Telecaster. Its amazing. I have it used on every record since I got it in 1997, including Burning Rain as well as both Whitesnake's Good To Be Bad and the new record. There are some funny stories about this guitar, but I tell them later...
Its an Ash wood body with a Gibson BurstBucker #1 Humbucker that I added in the front. In the studio the guitar is Super Fat and Warm. I used the guitar live with Whitesnake all over the world and people always commented on how unique the tone is. I miss it already so I will probably try to win it back for myself! Anyway, whoever gets it will be happy with it no question. Im hoping it will go for a big price. We are also including a Tour Book from the Monsters o Rock Tour plus a slide and picks. The Tour Book is signed by David, Reb, Tommy, Marco, Timothy and me. Thanks so much for checking the site!
Phil, we all love you man.
Get well SOOOON Bro!!
Doug
.. by Doug Aldrich site | comments (0) + facebook comments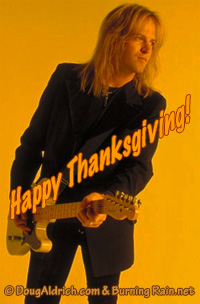 Happy Thanksgiving to you all!
Had a nice day with the family.
Its been a long time since had a day off so It was just football beer and food...
.. by BURNING RAIN net | comments (0) + facebook comments
**** This Weekend *** 2 Nights !! ****
Feelgoods In Vegas And Ramona Main Stage Ramona, California
*********** Gonna Be Slammin ! **************

.. by Keith St John site | comments (0) + facebook comments
***MONTROSE*** HEADLINING GUITAR PLAYER MAGAZINE YEARLY SOIREE!!*** ***FRIDAY NIGHT SEPT 17TH***BANKHEAD THEATER*LIVERMORE,CA***
***DOORS AT 7PM**GARY HOEY OPENS**SEE YOU THERE!** by KSJ
.. by Keith St John site | comments (0) + facebook comments

Thank you so much for all the posts for Ryder....
The Official Doug Aldrich message board
.. by Doug Aldrich site | comments (1) + facebook comments
After months of speculation, WHITESNAKE are thrilled to announce their new bass player/singer... 35 year old MICHAEL DEVIN.
Recently MICHAEL has been playing with LYNCH MOB with new WHITESNAKE drummer, BRIIIAN TICHY.
This completes the new WHITESNAKE line-up & MICHAEL will be featured on their new album, alongside guitarists DOUG ALDRICH & REB BEACH & keyboardist TIMOTHY DRURY.
MICHAEL DEVIN says... "It's an honor to be welcomed into the WHITESNAKE family. I'm a big fan. WHITESNAKE is notorious for exciting musicianship, Davids history is rich, and I'm very proud to be here."
The album is currently being recorded for release on the FRONTIERS label in early 2011. The band will be also returning to touring in support of the new album's release.
Interview with Michael at Whitesnake.com
from Doug: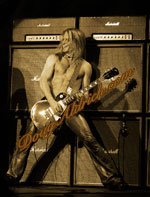 Hi everyone, hope you all are great! Been sooo F'in crazy busy working on the record. Its going great, still in the early stages of recording but it already sounds immense and rich thanks to a certain Mr Brian Tichy laying down a more classic drum performance than I could have imagined. He is just stunning on the record!
But the reason for this post is to welcome Michael Devin to Whitesnake. We are so happy to have gotten him. Wait till you hear him! He's been hiding out with Kenny Wayne and George Lynch among others, but we got him!
Yes, he's a star and is the complete package in a band mate, but his playing is why he was offered the gig. He's the real deal... Him and Brian are a powerhouse together!
We have a bit of time, but the wait for the new WS record will be worth it. I can't wait really.
You guys are so cool, thanks to you all for your support for me and the guys. We really appreciate it.
Best regards, Doug
.. by Doug Aldrich site | comments (0) + facebook comments