Hello Burning Rainers!
We've redesigned the Updates and News page.
In the old design, some Windows + Internet Explore users had trouble viewing. We found out the issue a few weeks ago. Since then we'd been trying to fix it somehow, but it was impossible. So we've desided to redesign the all.
Now we are working on the rest of the pages and will be updateing as quickly as possible. Thank you for your patience.

.. by BURNING RAIN net | comments (0) + facebook comments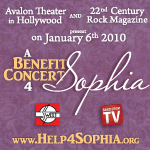 Doug and Keith's friend guitarist Stuart Smith (Sweet, Heaven and Earth) has a baby daughter. Unfortunately, she was born premature and has needed a lot of medical attention, and she needs additional surgery. So Robert Tuozzo has arranged a benefit concert for her on January 6th 2010 at the Avalon Hollywood in Los Angeles, and Doug and keith will be attending/ jamming with other musicians!
Jan-07-2010 (Thu) 3:22pm
Hey, Thanks you guys!
It was a really great night and I think, hope they did well!
Everyone played awesomely and had a lot of fun.
It was good catching up with so many LA musicians that I havent seen for a long long time.
When I walked in, the night had already started, but onstage was Brian Tichy, Jeff Pilson , Tracii Guns and Dinah from ThundherStruck. Man that girl can SING! She pretty much blew me away.
Kelly Hansen came and did some Foriegner tunes and that was killer. Anyway, it went on with various guys sitting in for a song or two. I jammed Rainbow in The Dark with Brian, Rudy Sarzo and Scott Warren along with Tracii Guns. I gotta say, I didnt really know Tracii very well, but he is a fine player and a top shelf dude! Thanks to those guys for the invite.
Anyway, ill fill in more later but I gotta run cause you know whoo is calling me!
Thanks again you guys.
All the best, D
.. by BURNING RAIN net | comments (0) + facebook comments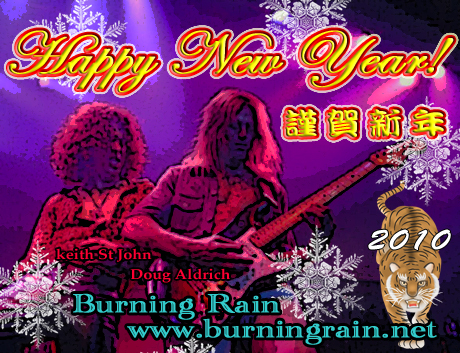 Happy New Year!
Thank you for your support.
Much peace, love and joy to you in 2010.
Merry Christmas to everyone at BR.net!!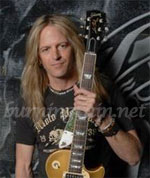 From my family to yours,
I wish you all a Happy and Healthy New Year in 2010!
Thank you so much for all your support.
I am extremely lucky to have you all in my life.
All the best Doug

.. by BURNING RAIN net | comments (1) + facebook comments
.. by BURNING RAIN net | comments (0) + facebook comments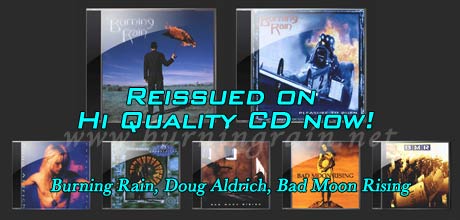 Burning Rain 2 CDs Burning Rain and Pleasure to Burn have been reissued on High Quality CD by Pony Cayon Inc on Jan-21 in Japan.
Also reissue Doug's 2 solo CDs and Bad Moon Rising's, Doug and Ian were in before BR, 3 CDs on HQCD on the same day.
If you don't have any of these, it's a good opportunity to get and listen to the fabulous CDs!
.. by BURNING RAIN net | comments (2) + facebook comments
We are very grateful to you for the support for us in 2008!
We hope 2009 will be better and happier for you all.
This BR site is now 10-year-old and the BMR site is 12-year-old.
Thanks for your visit and support!
Much peace, love and joy to you all in 2009.
Hey everyone. Happy 2009 to you!!
I hope you all had a safe and fun New Years.
I ended up going out for Mongolian BBQ and then went to a movie. It was very nice and relaxing.
I know there were some parties and stuff, but after traveling and partying all year,
I just wanted to keep it lowkey this year.
Thanks to you all for all your friendship and support last year. I got to see a lot of you last year,
and even though I didn't have much time, it was still cool to see you.
I look forward to seeing you all as soon as possible in 09.
Again, wishing you all, happiness, health, fun and money for the new year!!
Best regards, Doug
.. by BURNING RAIN net | comments (1) + facebook comments