Jan-27-2012 (Fri) 11:52 pm
Well,
I think I survived the Namm scene again!
It was fun and pretty smooth considering everything.
The whole Namm thing is something that I don't know if I'm so good at, its a bit stressful cause you have to talk a lot and ya know, that's not a total strength… Haha. Plus, I know pretty much everyone I see. Or The people I don't know, I swear I have met or seen before so it gets confusing.
Since I skipped last year, I was looking forward a lot. Also, a few of the Snakes were going and that took the pressure off cause I would be with my buds.
Got down on Thursday night.
I drove Devin down as we were both scheduled to go to the Zakk Wylde Roast. But first Michael and I stopped at a private Suhr Guitars party. It was great to see the new factory and spend some time with John, Steve, Shon and the dealers that they work with. I've known John for years and he is a Tone Master. He makes my pickups, refrets my guitars and works on my amps. They do it all there and I wanted to come by and show support.
Dev and I arrived hoping to neck some cold beers, but it was a dry party! Haha. It was cool though, we hung with Peter Thorn, Andy Wood and Guthrie Govan. Played through Peter's JS Plexy head. It was screaming. Steve Stevens and some others were coming, but we had to split early to get to the Zakk Roast for dinner.
Well, I was driving so I left the gps directions in the capable hands of Michael…. We were talking so much and laughing and well, we somehow ended up waaaaay off course nearly to San Diego! My phone was freaking out and Michaels gps was giving us mixed signals so we were pretty late.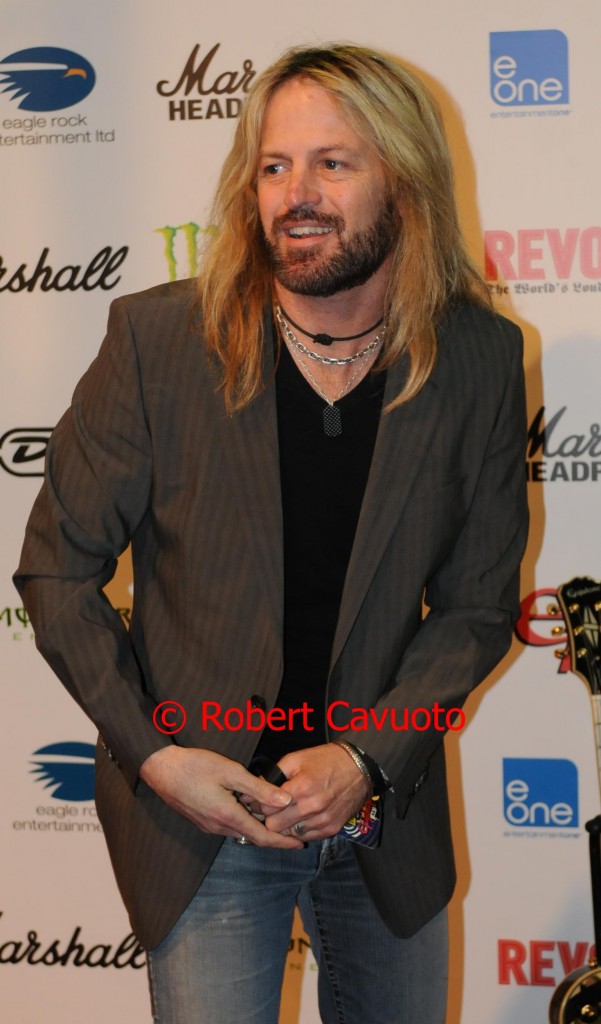 The red carpet press stuff was for 6:30 and I didn't, but we were hungry and thirsty by then so when we showed up, it was nearly 8. They were still doing press and we saw Tichy talking to Rolling Stone…
Anyway, I went in to get to the Marshall table that we were all at. Paul Marshall got us some beers and we were off! Dinner was good and the Roast was really fun. Zakk was in great form and took it all like a man. But I think Scott Ian got beat up worse than anyone!!
Always great to hang with Paul Marshall and a bunch of other company reps were there. Jimmy and Scott from Dunlop were behind us and it was a good catch up with them. Richie Faulkner, Vinny Appice, Kerry King, Jim Florentine, Glenn Hughes, Duff M and a zillion other famous dudes were there to support Zakk. After the thing, Michael Tich and I hung back to congratulate Zakk. He did great and was so happy. Top guy, he definitely deserves all his success.
Next up was the Hilton bar and to a private party up in one of the rooms. During the night, I had got a text from Michael Akerfeldt saying he and Fred from Opeth were in town. I said. Cool! Let's hang tomorrow.
As I was going up the elevator to go to the party, the door opened and there was Michael standing there… Haha, He came with me and then we went to Fred's room to say hi and grab a last beer.
Devin and I then decided we should stay and not drive so we got some room down the street. Yes, we had to share cause everything was sold out. He was talking about something when I passed out.
I woke up and it was still pitch black… I'm like wow, I feel great and the sun isn't even up yet. Later I found out that we had the last and only room and that it had no windows!! Kinda looked to me like a jail cell…
I woke up Dev and we hit Denny's for some lunch before we finally got to the show and started the whole thing.
Friday was signings and a few interviews. Saw a bunch of friends, Mark Tremonti and Neal Schon… Saw Mike and Fred at PRS…Saw Uriah Duffy at TC which was so great. He was wailing at the booth. I played some really cool new gear during the day.
After doing a signing at Tone Pros, I played through a new 65amp that was wicked! Peter Stroud is a partner I think and he said I had to hear it. He was right. I was walking out and John Payne said hey, come check out my new bass. I said, hey man, they want us out and the lights are shutting down but I went anyway and played his new baby.
Now at the end of the show each day, everyone goes to the various hotel bars. Then, it gets really crazy! But I cut out to dinner. Later, I met back up with Dev, Tich and Keith St John and we went to a Sabian party to see Derek Sherinian and Billy Sheehan play. Keith and I hung as we have been doing Stuff in the studio and we had some good laughs.
That night we all already had rooms waiting so it was a good thing. I made it an early night because I wanted to be in good shape to play at Marshall the next day.
In the end on Sat, we never did play because Namm has severe noise limits and it was gonna be a problem for us to do our thing. Brian, Michael and I did hang and sign at Marshall, but we were all bummed not to get to play. We will play in March at Music Messe and THAT will be awesome. We worked up a kick ass set of very different covers and I can't wait to jam.
At Marshall, I played through the new Marshall 1watt amps. They are really really cool. I played through three of the five different amps and I loved each one more than the next. Joe Satch was there diggin em too. Def gonna get me some of them… Or all of them!!
I ran into my Art and some of the Dinosaur Rock Guitar web guys which was cool, but as usual, I didn't have much time during the show to talk. Also Jose and Doug And Joanie B too. I really love that I saw you guys. I just hate that I am always running on the days Namm and don't get much time.
I met Steve Stevens for the first time and his wife Josie who was really nice… Saw Lita signing and stopped to steal a hug. She is such a cool person and a great artist. She has a new record coming this year and Im happy for her…..
Saturday night I stopped by the bar, saw George L, Fred and Howie Simon talking tone…..I was invited to a Seymour D Party and I left my guitar with those guys and Tichy and said I would be right back….
Confidence was hopeful that they would still be there when I got back and mostly that my Gold Top would still be leaning against the wall. George gave me a hassle for leaving mid tone talk, but I wanted to say hello to Seymour. He is a long time friend and I don't get to see him much.. but I missed Seymour. I came back to actually find Brian waiting with my guitar!!!
He had texted me to tell me to hurry back cause we had a Marshall dinner with Paul Marshall and Craig from Natal Drums. We decided to take Tichys truck and I was the designated driver! As we were getting the car Derek S came up and we invited him to come as well. We ate Italian at a great spot a bit away from the Namm party thing.
It was the end of the thing for me. After dinner I dropped the guys off and headed home.
OK… That's just a small part of what really happened I'm sure but I said I would give y'all a summary so there you go.
Original: The Official Doug Aldrich message board
Related: Doug Aldrich NAMM 2012 appearances
← Happy Birthday Doug! (Feb-19th)
Keith St.John with Quiet Riot →
Facebook
← Happy Birthday Doug! (Feb-19th)
Keith St.John with Quiet Riot →