<< Doug: Musikmesse 2010 Launches newly designed website /Updates 2010 >>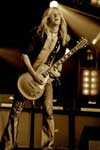 We have finally updated some pages, added two photos into the Photo Gallery, added several CDs to the Discography, and moved the old materials to the new pages, and we are working on some more new stuff. Thank you for your patience.
Updates
Site updates
Prayers for Chile
Special Announcement: Frontiers Records and Whitesnake Join Forces
Thank you all for the birthday wishes!
Just wanted send some Prayers for the safety, and to our friends in Chile.
It was one of the biggest quakes in the world.... It must have been scary as hell.
I know there is loss, so praying for those familys.
Lots of love from Cali
Doug
Special Announcement: Frontiers Records & Whitesnake Join Forces
Frontiers Records signs the legendary band for new album world-wide. Read all about it on whitesnake.com
Thank you all for the birthday wishes!
Today (Feb-19) marks Doug Aldrich's Birthday!
At this time, he is currently composing new music with David Coverdale for a brand new Whitesnake album tentatively due in 2011.
Doug says
"We are off to an amazing start. Its like supernatural for David and I. We are constantly banging riffs and melodies back and forth. Very exciting new stuff!!"
Doug would like to thank you all for the birthday wishes!
.. by Doug Aldrich site | comments (1) + facebook comments
[402] ellen .. Oct.04.2010 12:50 PM
Doug its been years ...Ritas sister love to hear from you Ellen
Please leave your comment at Burning Rain Message Board.
<< Doug: Musikmesse 2010 Launches newly designed website /Updates 2010 >>
[ Back | Page Top ]