<< Doug Aldrich at NAMM show 2009 Whitesnake: Good to be Bad >>

Winner: Whitesnake & Def Leppard
Whitesnake and Def Leppard were reborn on this phenomenal double header tour. Both bands played each night as if to upstage the other, with the thought of being the better band on the night driving them onto performances that seemingly got better and better as the tour went on. Adding Black Stone Cherry and Thunder as support acts was just showing off.
This was an essential tour of 2008, and 25% of you agreed as it beat the high profile Queen & Paul Rodgers tour into second place.
Thank you for your support!!
Thank you guys!

Whitesnake Tour 2008 Review board
Thank you and have fun!!

Whitesnake Tour 2008
Sun Mar23 Rock2Wgtn Festival Westpac Stadium: Wellington, New Zealand
Wed Mar-26 The Tivoli: Brisbane, Australia
Fri Mar-28 Enmore Theatre: Sydney, Australia
Sun Mar-30 Palace Theatre: Melbourne, Australia
Mon Mar-31 Thebarton Theatre: Adelaide, Australia
South America
Sat May-03 Arena Amadeu Teixeira: Manaus, Brazil
Tue May-06 Chevrolet Hall: Belo Horizonte, Brazil
Wed May-07 Citibank Hall: Rio De Janeiro, Brazil
Fri May-09 Credicard Hall: Sao Paulo, Brazil
Sat May-10 Helloch: Curitiba, Brazil
Sun May-11 Teatro Bourbon: Porto Alegre, Brazil
Wed May-14 Luna Park: Buenos Aires, Argentina
Thu May-15 Luna Park: Buenos Aires, Argentina
Fri May-16 Teatro Caupolican: Santiago, Chile
Tue May-20 Estadio Nacional: Lima, Peru
Fri May-23 Plaza De Toros: Mexico City, Mexico
Europe
Fri Jun-06 Sweden Rock Festival: Solvesborg, Sweden
Sun Jun-08 Sauna Open Air: Tampere, Finland
Tue Jun-10 Laugardalsholl: Reykjavik, Iceland
Thu Jun-12 Spektrum Scene: Oslo, Norway
Fri Jun-13 VEGA: Copenhagen, Denmark
Sun Jun-15 Arrow Classic Goffertpark: Nijmegen, Holland
Special Guests: Black Stone Cherry
Tue Jun-17 SECC: Glasgow, Scotland
Wed Jun-18 NEC: Birmingham, England
Fri Jun-20 MEN: Manchester, England
Sat Jun-21 Belfast Odyssey Arena: Belfast, N.Ireland
Mon Jun-23 Sheffield Arena: Sheffield, England
Tue Jun-24 Metro Radio Arena: Newcastle, England
Thu Jun-26 Wembley Arena: London, England
Tickets: Live Nation, Ticketmaster
Fri Jun-27 Graspop Metal: Dessel, Belgium
Tue Jul-01 Karasaki Stadium: Athens, Greece
Thu Jul-03 Stadium: Tirana, Albania
Fri Jul-04 Akademik Stadium: Sofia, Bulgaria
Sun Jul-06 Masstival: Parkorma Istanbul, Turkey
Tue Jul-08 Romexpo: Bucharest, Romania
Thu Jul-10 Old Fortress: Osijek, Croatia
Sat Jul-12 Bad Arolsen Festival: Bad Arolsen, Germany
Def Leppard and Whitesnake Co Headline Arena Tour
Special Guests: Thunder
Mon Jul-14 Cardiff International Arena: Cardiff, Wales
Tue Jul-15 Echo Arena: Liverpool, England
Thu Jul-17 Nottingham Arena: Nottingham, England
Tickets: Live Nation, Ticketmaster
Sat Jul-19 Karlovy Vary, Czech Rep
Sun Jul-20 Castle Clam: Klam, Austria
Mon Jul-21 Petofi Csarnock: Budapest, Hungary
Wed Jul-23 Villa Contarini: Padova, Italy
Fri Jul-25 Razz 1: Barcelona, Spain
Sat Jul-26 Green Space: Valencia, Spain
Mon Jul-28 Rock Star Live: Bilbao, Spain
Wed Jul-30 Coliseum: Coruna, Spain
Thu Jul-31 Riviera: Madrid, Spain
Sat Aug-02 Festival Expofacic: Cantanhede, Portugal
Def Leppard & Whitesnake Co Headline Tour in Japan!

Info: Udo Artists +Translate+
Mon Nov-10 Exhibition Grounds: Tel Aviv, Israel
Thu Nov-13 Eleftheria Stadium: Nicosia, Cyprus
Sun Nov-16 Schutzenhaus Albisguetli: Zurich, Switzerland
Alice Cooper and Whitesnake
Tue Nov-18 Sporthalle: Hamburg, Germany
Thu Nov-20 AWD Hall: Hannover, Germany
Fri Nov-21 Grugahalle: Essen, Germany
Sat Nov-22 Oberfrankenhalle: Bayreuth, Germany
Tue Nov-25 Messehalle: Erfurt, Germany
Wed Nov-26 Olympiahalle: Munich, Germany
Fri Nov-28 Jahrhunderthalle: Frankfurt, Germany
Sat Nov-29 Porsche Arena: Stuttgart, Germany
Mon Dec-01 Max Schelinghalle: Berlin, Germany
Ticket: www.kartenhaus.de
Tue Dec-02 Stodola: Warsaw, Poland
Thu Dec-04 Siemens Arens: Vilnius, Lithuania
Sun Dec-07 SportPalace: Kiev, Ukraine
Tue Dec-09 BI: Moscow, Russia
Thu Dec-11 New Arena: St. Petersburg, Russia
Fri Dec-12 Icehall: Helsinki, Finland
Sun Dec-14 Saku Arena: Tallin, Estonia
Tue Dec-16 ISStadion: Stockholm, Sweden
Wed Dec-17 Scandinavium: Gothenburg, Sweden
Fri Dec-19 KB Halle: Copenhagen, Denmark
Sun Dec-21 Tilburg, Holland

Info: Whitesnake Tour 2008 board.
... whitesnake.com
Whitesnake Tour starts on Mar-23!
Mar-21-2008 (Fri)
Doug and the band just arrived New Zealand.
They are excited about the tour with the new materials!
Don't miss the shows will go down in the history!!
Apr-2-2008 (Wed)
New Zealand & Australian Tour has just finished.
Thank you for the warm welcome!
Message from Doug Aldrich on DA.com
Doug Headi​ng out to Brazi​l...
Apr-29-2008 (Tue)
We are still hoping for a U.S. tour
but it is up to the promoters to book us.
Hope to see you all out on the road!
May-16 Chile show was cancelled
Just wanted to post to you guys
and also the WS fans in Chile...
Message from Doug
Aug-12-2008 (Tue)
Whitesnake EURO/UK tour finished.
Thanks for your support and we hope you enjoyed!
Doug wants to thanks everyone that came to the Summer shows.
End Of Tour: Interview with David Coverdale on WS.com
Whitesnake Announces New Drummer - Chris Frazier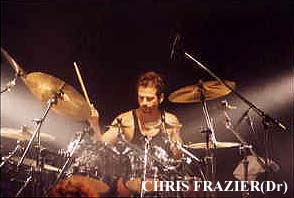 Whitesnake has issued the following update...
The new Whitesnake album, 'Good To Be Bad', scheduled for release in the spring of 2008 will be their 10th studio record and will feature the exceptional percussive talents of Chris Frazier, the latest member to grace the ranks of the band alongside Doug Aldrich on guitar, who also co-wrote and co-produced the album with David Coverdale and Michael McIntyre, Timothy Drury on keyboards, the terribly good-looking Uriah Duffy on horny bass, and Reb Beach on guitar. Chris takes over the drum chair from the ambidextrous Mr. Tommy Aldridge, drummer par excellence, who earlier in the year left to pursue alternate musical adventures. We all wish Ta well on his journey and take great delight in introducing to you a new and remarkable talent... So, without further adieu, please say hello to Chris Frazier?
... Read more at WS.com
Related pages
.. by Doug Aldrich site | comments (74) + facebook comments
[244] Brad Henwood .. Dec.23.2007 04:25 PM
Will Whitesnake tour the U.S. in 2008 ?
And will Seattle be on it.
[245] Jolanda .. Dec.26.2007 04:53 AM
Will WS tour in the Netherlands in 2008?
[246] Harumi-BRnet | Web .. Jan.03.2008 06:28 AM
Hi Brad and Jolanda,
Here is Mr. Coverdale\'s post on the WS.com BBS.
That\'s all I can give you for now.

on Dec-22-2007...
at this time we can confirm ( I believe )...we will likely start in New Zealand for a one off in March...We are exploring the possibility of nipping over to Australia for a pint & a show, or two...but, at tis time there is nothing positive to offer you...It looks very likely we will be having the distinct pleasure of returning to South & Central America in May, before starting our European run...( we have some absolutely splendid stuff planned...I can promise )...The US still manages to elude us, for whatever reason, but, as always, we don't take no for an answer...so, we are still working toward something in my adopted homeland laqter in the year...In fact, we will try to go anywhere & everywhere we can to present our music to those who wnat to be bitten by the snake.
[247] Black Heart 21 Rock .. Jan.07.2008 09:49 AM
Please come back to Atlanta in 2008!
[248] lisa .. Jan.09.2008 02:15 PM
Come to the UK again pppplllllleeeaaassseeeeeeeee
[250] Shayla .. Jan.18.2008 09:26 PM
u guys need 2 tour the damn U.S. cuz i have 2 c u guys, u ROCK!!!!
p.s. see u soon!! ha ha
[251] Nemanja .. Jan.19.2008 01:12 PM
As you know dear David, Serbia waits, longs and aches for Whitesnake! Please come again and repeat that beautiful show you gave us on july 30th 2006. You know that we are crazy for your most beautiful voice and songs. Do not forget Serbia adores you. Cheers!
[252] Sonyta .. Jan.22.2008 07:01 AM
Will Whitesnake tour central Europe in 2008..???
[253] Javier .. Jan.30.2008 06:36 PM
Hey! come to Argentina, please!

You are GREAT man!!
[254] tina .. Jan.31.2008 12:51 AM
Hey, i\'m so happy that we will see you in CROATIA. That is so cool, after so many years of rocking we will finaly see you? WE WELLCOME YOU. Greetings from Split
[255] dori .. Feb.06.2008 11:03 AM
hello, i just want to know because there has been some gossip, are whitesnake coming to Albania this year? i hope yes... :)
[256] kristy katz .. Feb.07.2008 07:17 AM
Black Stone Cherry will be great supporting act for you guys. They kicked my a** at the NAMM show, great to see a young band so into some classic r-n-r!!
[257] WHITESNAKE FAN .. Feb.08.2008 06:44 AM
YES YES YES...WHITESNAKE IN CROATIA......I CANT BELIVE! I AM SO HAPPY!!!
[258] Katja .. Feb.09.2008 08:53 AM
Why don\'t in Serbia, like few years ago? They are the best...
[259] Katja .. Feb.09.2008 09:05 AM
It\'s me again...;) I just want to ask you, dear David, to came in Serbia just one more time and repet the big show from 2006! That would be great! Tnx for the greatest songs you gave us! I love you sooo much... Whitesnake rocks
[260] orhan .. Feb.12.2008 10:14 AM
please come to albania
[261] miki .. Feb.12.2008 10:17 AM
please ,please,please and fucking please come to albania
[267] KPCTA .. Feb.19.2008 04:04 PM
Please, come back in Serbia.It was the best gig i have ever been.I hope you have good time in Serbia in 2006.Hope see you soon!
[268] honey .. Feb.20.2008 12:47 AM
hey i want to now when whitesnakes in ALBANIA??
please someone tell me
[269] Miki .. Feb.20.2008 03:00 AM
Why not come to Sarajevo !!!
[270] honey .. Feb.20.2008 03:15 AM
oh MY GOD!
WHITESNAKE\\S WILL COME ON ALBANIA
YESSSSSSSSSSSSSSS
[275] tomywizard .. Feb.22.2008 01:43 PM
Come to Milan, you\'ll enjoy the best audience, including me. I live on whitesnake, I love on whitesnake, I cry in the rain.
[278] valmir sejdiu .. Feb.27.2008 08:48 AM
hello when you will come in Kosovo or in Albania? you will make happy all the people around here. we are waiting for you so come soon please bye
[279] Rita .. Feb.28.2008 07:46 AM
please come to hungary
[280] JAVIER .. Feb.29.2008 11:40 PM
Whitesnake en Argentina, d una q toy pte ahi,entradas yaa!!!
[281] Mary .. Mar.03.2008 10:30 AM
el 14 de mayo en el luna
[282] igor alencar .. Mar.06.2008 05:40 PM
finally the band white snake will play in the exuberant amazon forest. Manaus city will give them literally a warm wellcome. Visitin us they will know a little more about our preserved forest and its receptive people.
[283] Steve G .. Mar.07.2008 07:27 AM
YOU HAVE TO TOUR IN THE U.S. this year. I HAVE TO HAVE SOMETHING TO ROCK OUT TO THIS SUMMER!! YOU GUYS KICK ASS!!
[284] Toni .. Mar.07.2008 11:49 AM
4th of July - Sofia, Bulgaria! We\'ll be there! Love you soooooooooo much! And little more :P
[287] Mark .. Mar.14.2008 01:05 PM
Hey Guys, we are all waiting for Whitesnake and Def Leppard in Italy - We Want you back !!!! -
Any news about it ?
Come on !
[288] caludita .. Mar.14.2008 07:10 PM
i cant belive it.ws in argentina. i´ll can see you again. i love you. when start the tickets sold. sorry my english sucks
[289] Russell .. Mar.20.2008 07:21 PM
Have loved your music Mr. Coverdale since your days in Deep Purple and think Whitesnake ABSOLUTELY ROCKSSSSSSS !!!!!! You have been the soundtrack to my life since high school !!!!
Hope to see Whitesnake in SA, TX, USA sometime in 2008-2009 !!!!! Lookin\' for love . . . to surround me . . . !!!!!!
[290] Chris .. Mar.23.2008 04:25 AM
Whitesnake in Wellington New Zealand tonight. A fantastic performance.
[293] Andy .. Mar.29.2008 02:35 AM
Hi, I´m looking for tourdates in germany.
But I can´t found anywhere.

That´s a shame.

Maybe, does every know for tourdates in germany.

thanks for informations.

best regards from germany

Andy
[294] Bledi .. Mar.29.2008 06:26 PM
really Whitesnake comes to ALBANIA?I hope so
[295] Peruuuuuu .. Mar.30.2008 12:15 PM
whitesnake come toooo Lima Peru....
[297] Ian .. Apr.05.2008 10:46 AM
Mr Coverdale peruvian fans are waiting for you!!!
[299] Donna .. Apr.13.2008 04:24 PM
Please come to the US - East Coast / CT loves you.
[300] mark .. Apr.23.2008 04:31 AM
cant w8 2 see whitesnake in manchester guna be insane!!!!!!¬ the new album iz brilliant,amazin!!!!!! rock on whitesnake rule!!!!!!!!1
[303] mic .. Apr.27.2008 04:27 AM
we need a US tour this summer! can\'t wait more
[304] david stack .. Apr.28.2008 10:27 PM
Come to Denver soon! I so badly want to see you again...It\'s been so long.
[305] Michael Rhodes .. May.03.2008 11:43 AM
OH please mighty snake tour the US I beg thee. We need some good ol rock to kick these dumb ass kids in the ass and show them what real talent is. I need some thunder to wash all this hip hop and crying pussy rock bands filth out of my ears please come to Texas i\'ll see every damn show.
[306] LUISA ROMERO .. May.04.2008 09:26 AM
Will Whitesnake tour the Colombia in 2008?
[307] Lorena PIMENTA .. May.07.2008 06:51 PM
Dear Mr. Coverdale,

Thanks for coming to Belo Horizonte, it was a beautiful concert!
And thank you for you voice, your lyrics,you`re so expressive and you look so....fine!
You make me happy!
God bless you all and good luck!!!
Lorena
[308] Lorena Pimenta .. May.11.2008 11:03 AM
Think about it...
Do you know any rockstar more sexy, more handsome and with a greater voice than DAVID COVERDALE...? I don´t!!!
If I think of them, no one has those three ingredients and besides, Mr. Coverdale seems to be a good person with a good heart.
Good luck Mr.Coverdale! Thanks for coming to Brazil!!! Have a nice Tour 2008.
[310] caludita .. May.16.2008 09:40 AM
thanks for comming ARGENTINA. you are amazing. we love you. the concert was wonderfull. i cant wait see you again. when you play i fly. we needed real rock and roll. please the next time add crying this song in the best y want ear it alive. sorry my english its ajjjjj.
[311] Sergey .. May.18.2008 06:09 AM
Come to Russia!!!!!
[313] rudy .. May.21.2008 09:28 AM
Thanks for coming to Lima, Peru! Your showed kicked ass and we love you!! We\'re eternally grateful and should come back next time! You\'re the best! Keep on rocking!!
[315] Klau Hippauf .. May.23.2008 10:21 AM
Hello my friend:
This is the second time I see the band. First time was at the Zenith in Muncih, Germany..suppoutr band was Bonfire. And after the show you and some other members of the band came out and signed me my ticket.
But this time, I was in charge to pick up David Coverdale from the airport.
The show was good, but it was a little empty.
Say hello to everybody from me.
Best wishes for you and family.
Sincerelly,
KLaus
[316] phlippe .. Jun.02.2008 01:34 PM
when you come in PARIS?????please come on I need whitesnake in france
[318] Erikorock .. Jun.12.2008 08:49 AM
so you must to be here in monterrey mexico we need another show of u
[319] Brian Jurek .. Jun.14.2008 06:55 PM
I am 14 and i know whitesnake has been rockin before i was born but they are my favorite band. I know all there songs. I check every day for a usa tour by whitesnake but never find one. I have all the cds 9 t-shirts, 5 posters, and 3 dvds and more. ALl im asking for is a michigan concert in Sualt ST marie or if my dad lets me go detroit. Sualt ST marie is a casino so i heard sometimes you have to be 21. Well please and thanks. Whitesnake 4-ever.
[320] michael .. Jun.19.2008 02:42 AM
shame only one concert in Germany. Can\'t you add a few more???????
[321] eran .. Jun.20.2008 10:10 AM
why don\'t you tour israel i think you\'ll like it very much

think about it
[322] Sandy .. Jun.26.2008 07:55 AM
Good Morning:


My name is Sandy Ferri and I run a bi-monthly printed Music publication called, \"Higher Rock Music\" based here in CT.

We have featured such artists as Rikki Rockett of Poison, Mark Slaughter of Slaughetr, Jamie ST James of Warrant, JoDee Messina, Blue County, Billy Dean, CeCe Winans, Martha Munizzi, Kevin Jarido & NuVirtue, just to name a few.

We work with numerous Labels, Management, Publicity Companies & Publishers for possible reviews of their music or books in our publication.

Who would I need to speak with in regards to setting up an interview with Doug and receive a few of his releases for review as well for the publication? I have been trying to set this up and find the appropriate contact but am having no such luck, hope you can direct me.

I appreciate all your help with this request.


Sandy
HR Music
203-507-8677
[323] Lisa .. Jun.26.2008 11:08 AM
Please come back to Florida ASAP!

Whitesnake RULES!
[324] Guto Gibson | Web .. Jul.03.2008 07:38 AM
Doug you are amazing, I enjoy your sound dude... please come back to Brazil
[325] rei .. Jul.10.2008 07:30 AM
whitesnake you are the best.I love you and theconcert in tirana was grate and was a kind of something that i can\'t explain.I wanna be like you,superstar but i know that i must work hard for this.lets rooock
[329] rei .. Jul.10.2008 07:38 AM
your concert in tirana was beautifull.I wanna you came back here and i\'m gona tell you,if you came again the stad.. will be full and you ganna enjoy that. I don,t speak very well but if youcame again i wanna meet you becouse i am your bigest fanc i think.If you can do methis present to meet you i will be the boy who will go to love love you for eternity.my name is Rei and my e-mail is reitenolli@hotmail.it.David leeeets roooock
[327] your fan .. Jul.12.2008 01:06 PM
thank you for coming in Osijek, Croatia ... it was great!
[328] Mark .. Jul.14.2008 09:55 AM
I love the new album. Right from start to finish, classic sound that only Whitesnake can produce. Really hoping to see you guys come to the Toronto, Ontario, CANADA way. Keep rockin!!
[330] bettina .. Jul.20.2008 07:36 PM
I hope you will come back to Copenhagen again so we don´t have to wait 4 years again
[331] eran .. Jul.25.2008 09:52 AM
i came all the wat from israel to see you in budapest ,great show .come to israel the crowd is very good and i bet you\'ll like it you\'ve been here with dio so you know what i\'m talking about tell coverdale that we wana see him here
[333] Deb & Jim .. Aug.26.2008 07:58 AM
Hope we\'ll be seeing you in America. There\'s as many fans here waiting to see you as there is anywhere else. The Snake rocks! Come earn our money, you deserve it! Make sure Florida is on your list of stops. Pease Dave, I haven\'t seen you since your early Tawny days. Love you guys, Deb and Jim
[334] shannon .. Aug.28.2008 07:49 AM
please come to wilkes-barre pa and to goodfella\'s warehouse in pottsville, pa
[335] eran .. Aug.29.2008 04:18 AM
i hope that you include Tel Aviv , israel as one of your stops don\'t forget us
[336] joed1515 .. Sep.08.2008 01:05 PM
Plz come to the US!!!!!!
[338] M160 .. Sep.26.2008 12:11 PM
We want you in US!!!
Mike, Atlanta
[339] eran .. Oct.03.2008 04:25 AM
THANKS for including Israel on the tour ,we are all waiting for you ,it is going to be a great concert LETS ROCK
[348] Shannon .. Oct.06.2008 04:05 PM
What about coming to CANADA?
Edmonton, Alberta to be exact!!! Many greats and legends have been here. Need the Whitesnake.
[349] eran .. Oct.12.2008 05:41 AM
hello whitesnake this is eran from israel is it possible to get a backstage pass it will be an honor to meet you all face to face in Tel Aviv my name is eran laskar please try to do something
[350] Shannon .. Oct.15.2008 06:53 AM
What are the odds of coming to CANADA.
(Edmonton, Alberta) Would love to hear you guys live. Awesome voice!!!
[352] Enx .. Oct.26.2008 09:30 AM
Co-headliner in Estonia? Could be Def Leppard? I hope so!!!!
[353] Barbara S. .. Dec.08.2008 04:09 PM
I absolutely LOVE the Bad to be Good CD - it\'s awesome!! You need to get your butts touring the U.S. - New Jersey Loves you! hURRY THE HELL UP ALREADY - dying to see you in concert!!! All I want All I need....
Please leave your comment at Burning Rain Message Board.
<< Doug Aldrich at NAMM show 2009 Whitesnake: Good to be Bad >>
[ Back | Page Top ]