<< Guest Book added/Updates 2009 Doug Aldrich Interview/article 2008 >>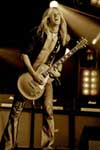 [February 12th 2009] News and Updates
[August 27 2008] News and Updates
Whitesnake News
The band is currently on a break at the moment. WS will resume rehearsals and tour preparations in Mid Oct for the next leg of the Good To Be Bad Tour. The tour picks up in Japan and Asia before returning to Europe. Check out Whitesnake.com for the most recent tour dates.
During the recently completed UK/Europe summer tour, Whitesnake was nominated 3 Classic Rock "Roll Of Honor Awards" including Album Of The Year for the Good To Be Bad Record! Visit the Classic Rock site and cast your vote for WS and GTBB!
In other news, Doug is pleased to announce a collaboration with Majik Box Pedals on a brand new signature Boost/Gain Pedal. "The new pedal is called the Rocket Fuel. Its really a great sounding box. Its all hand wired and really sounds killer. It covers all kinds of tones. From that hyped up SRV Strat tone to all out Les Paul power on steroids. Its all there" According to Doug, the pairing between the RF and the Suhr Pickups that Doug uses in all his guitars is just amazing!
Check out both sites: http://majikboxusa.com/http://www.suhrguitars.com/pickups.aspx#DA
[February 16 2008] News and Updates
Coming soon for 2008 Whitesnake on the Good To Be Bad World Tour
Dates are being put together now. Please check www.whitesnake.com for complete and up to date details.
After a long year writing and recording, Whitesnake will be releasing the newest studio recording Good To Be Bad this spring. David, Doug and the band are extremely anxoius and excited to uncoil the new songs.
Release dates are Germany-April 18th, Europe-April 21st, US and Canada-April 22nd. More release times will be posted on the WS site.
Doug Aldrich Comment
Hey everyone, cant wait for you to hear the new record and looking forward to seeing you on tour this year! Im in the process of preparing now for the tour and a few other thing too. I need to get my live rig fired up and have some new stuff to add to it. I'll get some updates going on the gear page as soon as I get it all sorted.
See you all soon and best regards, Doug
Check out at DougAldrich.com for more
.. by Doug Aldrich site | comments (4) + facebook comments
[262] Nynda Randall .. Feb.17.2008 11:13 AM
Happy Birthday!
You are a beyond human good guitar player. You are just wonderful! Have a Wonderfull Happy Birthday. I call you \"The Masta\"
[272] Tracy .. Feb.21.2008 10:37 AM
Hope u had a great Birthday!!
You are one of my favorite guitar players. Can\'t wait to see you with Whitesnake in 2008. Let me know the California Dates!! Love you!!xoxo
[277] Doug Aldrich .. Feb.26.2008 10:31 AM
Thanks everyone for the Birthday wishes!
[337] bettina .. Sep.14.2008 05:24 AM
Surprise ......just notis that Whitesnake is comming to Copenhagen one more time this year, this time I got tickets..... So now I have 4 tickets to the show in Berlin also, bought at a time when I just have to see and hear Davids voice in the real life. Are anyone interesstet ? I would love to see him twice, but .....
Please leave your comment at Burning Rain Message Board.
<< Guest Book added/Updates 2009 Doug Aldrich Interview/article 2008 >>
[ Back | Page Top ]