<< Doug Aldrich.com News and Updates Reissue Burning Rain CDs on HQCD >>
Young Guitar Mar-2009

Lectures
Doug Aldrich's Burning Lines
Young Guitar Feb-2009

[DVD PLAYING EDITION]
Doug Aldrich/WHITESNAKE
Doug Aldrich talks about the new Majik Box Rocket Fuel pedal
Player Feb-2009
Guitarist Summit Vol.1
Def Leppard x Whitesnake
Metallion (32)

Whitesnake / Def Leppard Special!!
Live In Japan
Doug Aldrich Interview
Young Guitar Beginners 09

[SPECIAL DVD SYNCHRONIZED PLAYING LECTURE & ADVICE]
Doug Aldrich guitar lecture: Blues licks (DVD)
Young Guitar Jan-2009

Def Leppard / Whitesnake Japanese Tour Report
Doug Aldrich Interview
Burrn! Jan-2009

Def Leppard / Whitesnake Japanese Tour Report
Player Jan-2009

Def Leppard / Whitesnake Japanese Tour Report
Marshall Blog

Doug Aldrich's Marshall (in Japanese)
Sep-14-2008 (Sun)

Doug and I finally got a chance to catch up, to talk about the new Whitesnake album, and life as a working Dino guitarist in 2008. Check it out, it's a good one.

Aug-14-2008 (Thu)

Shockwaves/HardRadio podcast #34

The Guitar Masters Episode.

Interview with Whitesnake's newest axe-wielder Doug Aldrich

BURRN! September-2008
Aug-5-2008 on sale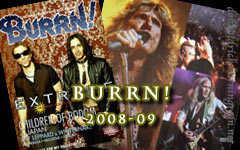 Exclusive Live Report
Def Leppard & Whitesnake

at Wembley Arena in London, England
Interview: WWW.RAFABASA.COM
Jul-25-2008 (Fri)

Cuando quedan horas para que arranque el tour de WHITESNAKE por nuestro paテュs, publicamos esta entrevista telefonica con Doug Aldrich, uno de los dos guitarristas de la Serpiente Blanca... Leer mテ。s
If that quedan hours to start the tour by Whitesnake our country, we publish this telephone interview with Doug Aldrich, one of two guitarists of the White Snake ... Read more
Jun-26-2008 (Thu)

The Classic-rock heroes bring Whitesnake after ten years of silence the new album 'Good To Be Bad' on the market - we have on the road and guitarist Doug Aldrich sound studio in his visit. The result is a workshop of the highest class!

Jun-26-2008 (Thu)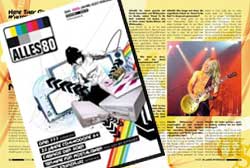 30 years Whitesnake
The comeback after eleven years: Die Hard rockers present their new album "Good To Be Bad" and are currently on a world tour. The new guitarist Doug Aldrich in the interview.

Guitar World Magazine: video interview
Jun-26-2008 (Thu)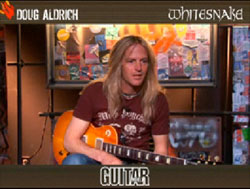 Your favorite guitar players tell their wildest road stories in this special video interview series. new!
Watch this video Q&A with hot-shot axman Doug Aldrich.

Interview and Article: Marshall LAW 10 - 04/2008
Jun-12-2008 (Thu)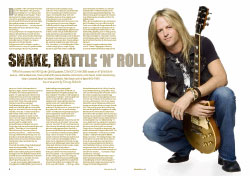 May-22-2008 (Thu)
Article and Interview on UOL Musica
Apr-22-2008 (added on May-7)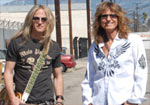 Whitesnake traz ao Brasil a turnテェ de "Good to Be Bad", primeiro テ。lbum de inテゥditas em 11 anos..... Leia o resto

Whitesnake brings to the Brazil tour of "Good to Be Bad," the first album of new compositions in 11 years..... Read the rest

An exclusive 45 minutes interview
May-4-2008
45 minutes with Doug Aldrich, a metal7080 special presentation


BURRN! June-2008
May-7-2008 on sale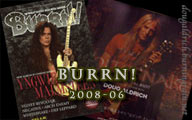 Whitesnake

Interview with Doug Aldrich
May-2-2008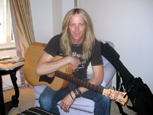 Talking Metal Episode 205

iTunes / MP3

Hosts Mark Strigl and John Ostronomy talk and play Metal with Doug Aldrich of Whitesnake.

The Aquarian Interview
Apr-23-2008

Charming the Sonic Snake: PDF on Whitesnake.com
Article and Interview on The Shropshire Star Newspaper
May-2-2008
"I'm really proud of this album," says Aldrich, on the phone from his LA home, and only slightly distracted by his new puppy trying to get in on the conversation..... Read the rest
May-1-2008

I did the best that I could on this project and it was a rewarding experience. I am just glad that it is over because it really kicked my ass.... Read the rest

Apr-27-2008
Apr-22-2008
Interview with Doug Aldrich on BigMusicGeek.com
Apr-20-2008
I was playing in the band Dio with Ronnie James Dio...and the Scorpions came to Ronnie and said "We're doing this tour next year with Whitesnake. David Coverdale is reforming Whitesnake... Read the rest
Doug Aldrich Interview on GlamMetal.com
Apr-16-2008
When I started working with him (Coverdale) in 2002-2003 (I was asked in later 2003 to join the band) I asked him what about recording? He said... Read the rest
Young Guitar May-2008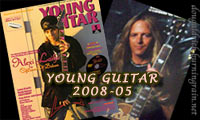 Doug Aldrich:

Special Interview & Playing
Exclusive interview with Doug Aldrich on Tangra Mega Rock
Mar-18-2008
David's always writing songs. I'm always writing songs. We are always working on ideas... Read the rest and Listen
Doug Aldrich Talks Good To Be Bad on Melodicrock.com
Feb-12-2008
Good To Be Bad was a total commitment and very focused from the start... Read the rest
Related Pages
.. by Doug Aldrich site | comments (0) + facebook comments
Please leave your comment at Burning Rain Message Board.
<< Doug Aldrich.com News and Updates Reissue Burning Rain CDs on HQCD >>
[ Back | Page Top ]