<< Doug Aldrich Interview/article 2008 Doug Aldrich at NAMM show 2009 >>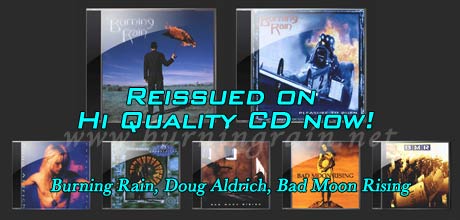 Burning Rain 2 CDs Burning Rain and Pleasure to Burn have been reissued on High Quality CD by Pony Cayon Inc on Jan-21 in Japan.
Also reissue Doug's 2 solo CDs and Bad Moon Rising's, Doug and Ian were in before BR, 3 CDs on HQCD on the same day.
If you don't have any of these, it's a good opportunity to get and listen to the fabulous CDs!
.. by BURNING RAIN net | comments (2) + facebook comments
[382] temo .. Nov.12.2009 03:14 PM
exelente musica, saludos
[390] m2 .. Jan.05.2010 01:41 PM
fantastic band, awesome musicians & lead singer.....sometimes so close Coverdale
BURNING RAIN GOLDEN BAND
Please leave your comment at Burning Rain Message Board.
<< Doug Aldrich Interview/article 2008 Doug Aldrich at NAMM show 2009 >>
[ Back | Page Top ]