<< Doug Aldrich Guitar Clinics in Europe Guest Book added/Updates 2009 >>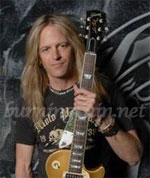 Happy Birthday Doug!!
THANK YOU!!
Thanks so much you all for all the birthday messages and wishes! .. read all
.. by Doug Aldrich site | comments (3) + facebook comments
[355] Gursharan11 .. Feb.18.2009 07:21 AM
Hey Doug,
Just stopped by to wish you an Awesome Birthday for tomorrow. Safe travelling and hope to see you very soon in the UK!!
Lots of Love, Gursharan x

PS. Harumi - keep up the good work with this website ;-)
[356] Harumi-BRnet .. Feb.18.2009 07:51 AM
Happy Birthday Doug!  
I hope the following year will be another wonderful one!!

>Gursharan
Thank you so much Gursharan.
Yeah, I will!
So please keep an eye on it!!
[357] kristin lang .. Feb.19.2009 01:19 AM
Happy Birthday Mr. Aldrich !

It's your birthday time again;
It's true; there's no denying,
Another year has come and gone;
You know that I'm not lying.

So for you Doug, the birthday person,
Here's what I want to say:
I hope this birthday's the best one yet,
In every delightful way.

So happy birthday to you.
Have lots of birthday fun!
May your birthday wishes all come true,
Even if you have a ton.

Many Birthday-Greetings from Austria
Please leave your comment at Burning Rain Message Board.
<< Doug Aldrich Guitar Clinics in Europe Guest Book added/Updates 2009 >>
[ Back | Page Top ]