This is getting way to frequent. Damn...
Prayers and thoughts for those in Japan at this time.
An 8.9 Earthquake is just unthinkable. This is going to affect much of the country.
Its just terrible.
.. by Doug Aldrich site | comments (1) + facebook comments
Updated the following page.
.. by Doug Aldrich site | comments (1) + facebook comments
Today marks Doug Aldrich's birthday.
Happy Birthday Doug!!
Leave your birthday message for Doug on the DA.com message board!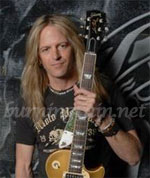 Wow! What can I say but Thank You.
You guys make an old dude feel young again!! Haha
I had a really great day today. Just pretty mellow. Got up, did breaky for Ryder, got an unexpected nap, played guitar and gonna have a coulee beers tonight with friends.
I very much appreciate you all thinking of me today. I'm very fortunate to have your support..... Specially today. Cause when you get to be as old as me..... You need all the support you can get!!
Thank you very much everyone.
Love Da
.. by Doug Aldrich site | comments (0) + facebook comments
February 7th 2011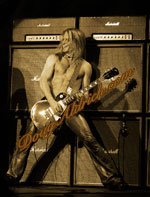 I spent today rediscovering some of the work he did. Nobody ever played with more emotion than Gary Moore. He played with unmatched soul and melody. But he was also by far, THE most ferocious, fearless and intense player i ever heard. No question. His playing made a huge impact on me.
I had the opportunity to see him play several times while on tour. I remember me and Reb listening to him warm up.... It was awesome! Not only was he one of the all time great guitarists right up there with guys like Hendrix and Rhoads, but his voice was righteous and pure. Rest Peacefully Gary.
.. by Doug Aldrich site | comments (0) + facebook comments
Hey Everyone. There are some things that I would like to promote including a great organization called Music Heals. Its a Charity to help sick children and I really am thankful that they are there.... But first, I wanted to ask, when you have a chance, to please visit the Y&T website (See Link) and view the Phil Kennemore Benefit Concert Items up for auction. Really great things to bid on. All the proceeds will go to help Phil who is battling Cancer. Phil is one of the all time great guys in music and Ive been a fan of Y&T since I first heard them in 1981. In 2003, Whitesnake , Y&T and Gary Moore worked together for the UK Monsters Of Rock Tour and we've been friends since. You couldnt ask to know a cooler bunch of guys. Y&T live is just badass!
For the Benefit auction, I wanted to donate one of my most favorite guitars. Its a Fender Custom Shop Telecaster. Its amazing. I have it used on every record since I got it in 1997, including Burning Rain as well as both Whitesnake's Good To Be Bad and the new record. There are some funny stories about this guitar, but I tell them later...
Its an Ash wood body with a Gibson BurstBucker #1 Humbucker that I added in the front. In the studio the guitar is Super Fat and Warm. I used the guitar live with Whitesnake all over the world and people always commented on how unique the tone is. I miss it already so I will probably try to win it back for myself! Anyway, whoever gets it will be happy with it no question. Im hoping it will go for a big price. We are also including a Tour Book from the Monsters o Rock Tour plus a slide and picks. The Tour Book is signed by David, Reb, Tommy, Marco, Timothy and me. Thanks so much for checking the site!
Phil, we all love you man.
Get well SOOOON Bro!!
Doug
.. by Doug Aldrich site | comments (0) + facebook comments

Thank you so much for all the posts for Ryder....
The Official Doug Aldrich message board
.. by Doug Aldrich site | comments (1) + facebook comments