Z Rock 2001 in UK Report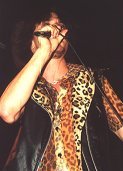 Keith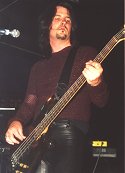 Ian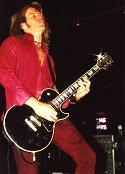 Doug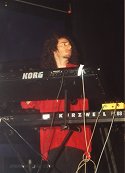 Edward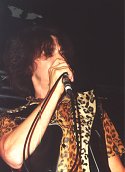 Keith


Ian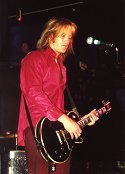 Doug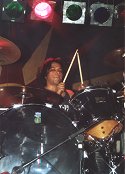 Jackie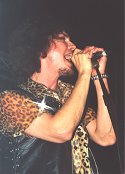 Keith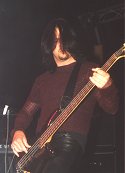 Ian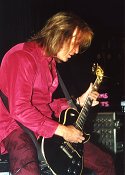 Doug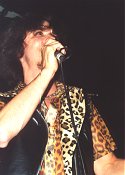 Keith
A lot of people came to see Doug Aldrich play. To a lot of rockers the Burning Rain axe-man is a real hero and for the first time today it started to get really crowded in front of the stage.
With ex-Bad Moon Rising member Jackie Ramos replacing Alexx Makarovich (who left the band a month ago) behind the drumkit and Edward Roth (Impellitteri) on keyboards, the band rocked their way through brilliant versions of Smooth Locomotion, Love Emotion, Metal Superman, Cherie Don't Break My Heart, Tokyo Rising, Cherry Grove, Love De Jour, Can't Turn Your Back On Love, Fireball, Judgement Day, and Fool No More.
The band was in top form. Keith sang the stars from the sky as he did on the last Burning Rain album on which I thought he sings better than on the debut. And considering the relatively small stage (in comparison to the real big venues) his show was everything you could expect from a professional like this.
I really had some major trouble shooting a few good pics of Mr. St. John, because he was jumping around the stage like mad all the time. The star of the show - of course - was Doug Aldrich. He seemed to be very relaxed, very comfortable with the situation on stage. It was really great to see this man play his six-string the way he does.
It all seems to go so easy, so smoothly, but the guitarists among us (and people who talk to them, like I do :-) ) know that what he does is just plain fabulous. The rest of the band played wonderful as well, let there be no doubt about that, by the way. But with a talent like Doug Aldrich in the band, it's no wonder that most of the attention goes out to him.
The sound was terrific throughout the entire concert and people who love the band (and who doesn't?) had a ball. It's a shame that they won't play any more gigs in Europe this year, I would have loved to see the band play some more. Next year, maybe? Or... (read on!)

Doug Aldrich comments: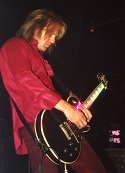 "Hey Fred,
Thanks for your questions for Majestic Mag
We had a killer time at the Z Rock event/concert. Mark Alger did a nice job. He had everything organized and we made friends with a lot of the bands.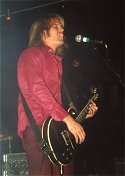 Tony from Contagious was hilarious. I hung with Donnie from Enuff Znuff for a while.
Keith and the Burning Rain guys all look forward to our next trip over later this year.
Later Fred.
Best Regards, Doug Aldrich "

(Thanks to Harumi, webmaster of the official Burning Rain website)
[ Page Top ]